Purchasing a meditation cushion
With the following five steps you place an order in the Yogisha webshop:
Click on the product of your choice and place it in the virtual shopping cart by clicking on 'Add to cart'.
Check the order summary. Is this correct? Then click on 'Complete order'.
Log in or choose to checkout as a guest. When you order as a guest, we ask you to enter your address and contact details.
Select the shipping and payment method.
Agree to the terms and conditions and click 'Buy'.
Why use a meditation cushion?
A meditation practice is something wonderful to cultivate for yourself. Many yoga classes also start with a short meditation in a sitting position. A good meditation cushion supports a stable posture with a straight back and the shoulders relaxed. By sitting comfortably on the a cushion close to the floor, you can ground better and you can fully focus on the thoughts that come and go. The pillow also prevents you from being distracted by joints that hurt from the hard floor.
Meditation cushion for Yin yoga
A well-known yoga style that makes extensive use of the meditation cushion is Yin yoga. During a sequence you assume postures that you hold for about five to ten minutes each time. A good meditation cushion provides support and helps you to sink 'further' into the exercise while you fully concentrate on your breathing.
Choosing a meditation cushion
To meditate comfortably, it is important that the filling of the meditation cushion offers sufficient support and that the height is right for you. The Yogisha meditation cushions are filled with buckwheat chaff. This natural material molds to your body and provides sturdy support. Which height is perfect for you depends on how you like to sit, how tall you are and how flexible you are. Are you quite tall and not that flexible? Then choose a higher pillow and vice versa. Want to know more about what you can take into account when picking a cushion? In our blog about the right meditation cushion you can read more about points of attention when buying a meditation cushion.
Advice when choosing a meditation cushion
Do have questions? Contact us by phone on 020 664 07 43 or visit one of our stores in Amsterdam or The Hague for advice on choosing a meditation cushion. Our employees are experienced yoga practitioners and are happy to help you find a meditation cushion that suits you perfectly.
Which meditation cushion suits me?
In the Yogisha range you will find meditation cushions in different colors, shapes and designs. We are happy to explain the different types for you.
Round meditation cushion
If you are just starting out with yoga, a higher, round meditation cushion is ideal. With a height of 5, 9, 13, or 17 centimeters, everyone can meditate comfortably on a round cushion. After meditating for some time, you might gain some flexibility and may notice that you prefer a little lower. By removing some of the buckwheat filling from the pillow, you can alter the height of the pillow. The outside of the round cushions consists of very strong cotton with a zipper. You can wash the cotton cover in the washing machine.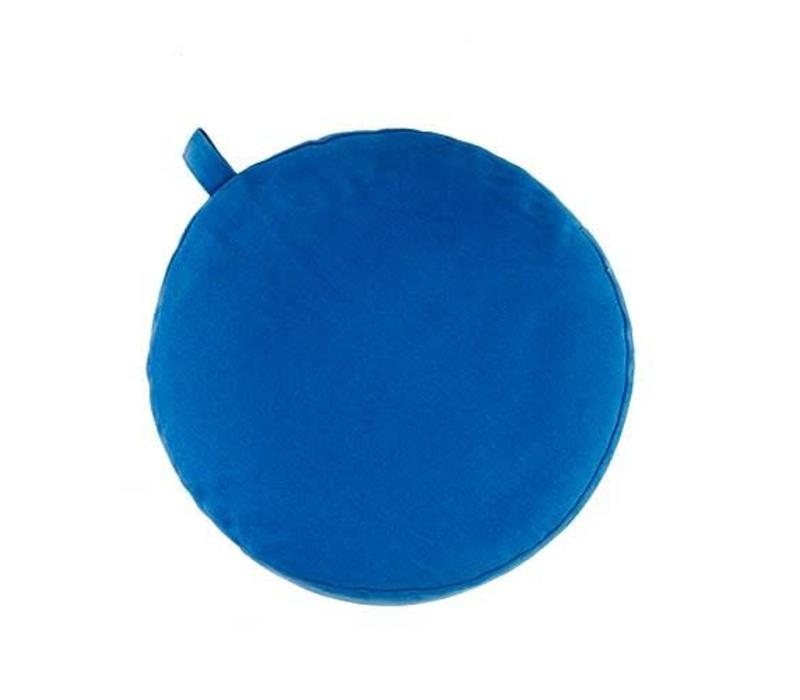 Half moon meditation cushion
This cushion also supports a natural sitting position. Because of the half moon shape, they provide more support to your upper legs than a round pillow. This is especially great if you experience a strain in your hips while in a cross legged position. In addition, the pillow is sloped, causing the pelvis to tilt and the spine to assume a natural position. This pillow is also made of sturdy cotton and has a buckwheat chaff filling. The cover can easily be washed in the washing machine.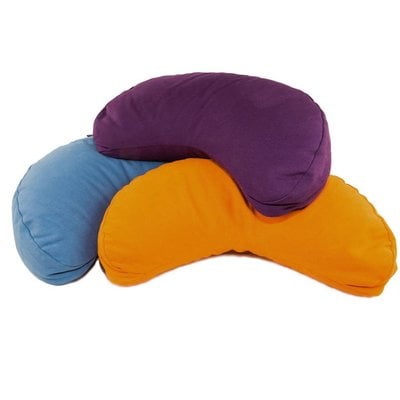 Support cushion
This small square meditation cushion with a size of 30 x 30 cm provides extra support during the cross-legged position, under your knees for example. As with the round and half-moon pillows, the filling consists of buckwheat chaff and the outer cover of the pillow is finished with sturdy cotton. The compact size also makes this pillow suitable for traveling.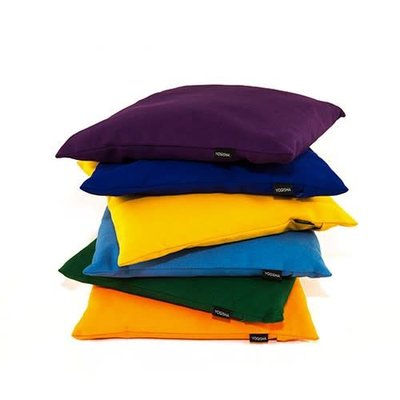 Inflatable meditation cushion
Still enjoying your daily meditation far from home? An inflatable meditation cushion takes up virtually no extra space in your suitcase. In the Yogisha range you will find inflatable meditation cushions with a round or crescent shape. The cushions are suitable for any type of physique and you can easily adjust the height to your own preference.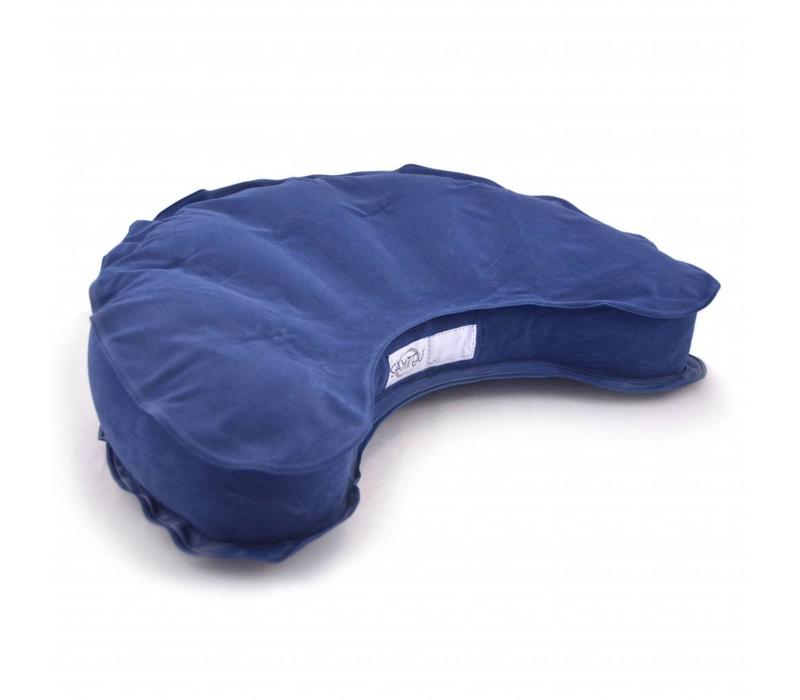 Buckwheat chaff filling
When harvesting buckwheat, the hard skins are separated from the buckwheat seeds. Because these caps are very hard and round, they are the ideal filling for a meditation cushion. Buckwheat chaff offers sturdy support but does not quickly become too compact. Because the skins do not break quickly, enough air remains between the skins.
Refilling of meditation cushion
When you use the meditation cushion a lot, you will notice over time that the cushion becomes a little less high because the buckwheat filling slowly becomes finer. Thanks to the handy inner and outer zippers of the meditation cushion, this is fortunately no problem, you can easily top up the cushion yourself with buckwheat chaff.
Sturdy cotton cover
The covers of Yogisha's meditation cushions are made of sturdy cotton that will easily last for many years. The cushion can be used on any type of surface. Thanks to the handy zippers, you can easily remove the cover from the cushion to wash it in the washing machine.
Durable, high quality meditation cushions
The meditation cushions from our own brand Yogisha are made in the Netherlands, so that we can be sure that the impact of the production process on people and the environment is minimal. We only use local raw materials to produce the pillows.
Everything for meditation
In addition to meditation cushions, you will also find at Yogisha:
Come by in Amsterdam or The Hague
In addition to a webshop, Yogisha has two physical stores in Amsterdam and The Hague where you are welcome to try out the different meditation cushions.