Buy yoga mat online
In our webshop you order your new yoga mat in the following five steps:
Click on the yoga mat of your choice and place it in your shopping cart by clicking on 'Add to cart'.
Your order overview will appear via 'Order'. Is this correct? Then click on 'Complete order'.
Log in or continue as a guest. When you save your data, you place your next order faster and you can choose to save for a discount with our Loyalty program.
Select the shipping method.
Indicate how you want to pay, accept the general terms and conditions and click on the 'Buy' button.
Sustainable and ecological yoga mats
The yoga mats in our range are from sustainable quality brands such as Manduka , Cork Yogis and Jade. Yogisha strives to offer products where the impact of the production process is as friendly as possible for people and the environment. Do you have a question about one of our products? Contact us by telephone on 020 664 07 43 or send an e-mail to [email protected] . We are happy to tell you more about our range!
Choosing a good yoga mat
Although most yoga mats look alike at first glance, there are many options available in terms of material, length, width and thickness of the mat. Some yoga mats are suitable for any yoga style, while an organic cotton mat will slip during Ashtanga yoga. Especially with dynamic forms of yoga, it is important that the mat offers grip and does not slip. Via the filters you will quickly find a yoga mat that meets your needs. Would you like to try the mat first? Feel free to visit one of our stores in Amsterdam or The Hague .
Yoga mat made of PVC or organic cotton
How do you choose the right yoga mat? Below you will find more information about yoga mats made of natural rubber , PVC , wool , and cork .
Yoga mat natural rubber
Natural rubber offers a lot of grip and provides extra cushioning while performing the various exercises. The mats are slightly heavier, so that the corners do not curl up. A yoga mat made of natural rubber is a particularly environmentally friendly choice: you will not find PVC or other harmful substances in the mat. This natural material does require special care. The rubber does not tolerate the sun well and dries out when exposed to high temperatures. At Yogisha you will find special products for cleaning your yoga mat that keep the mat in optimal condition.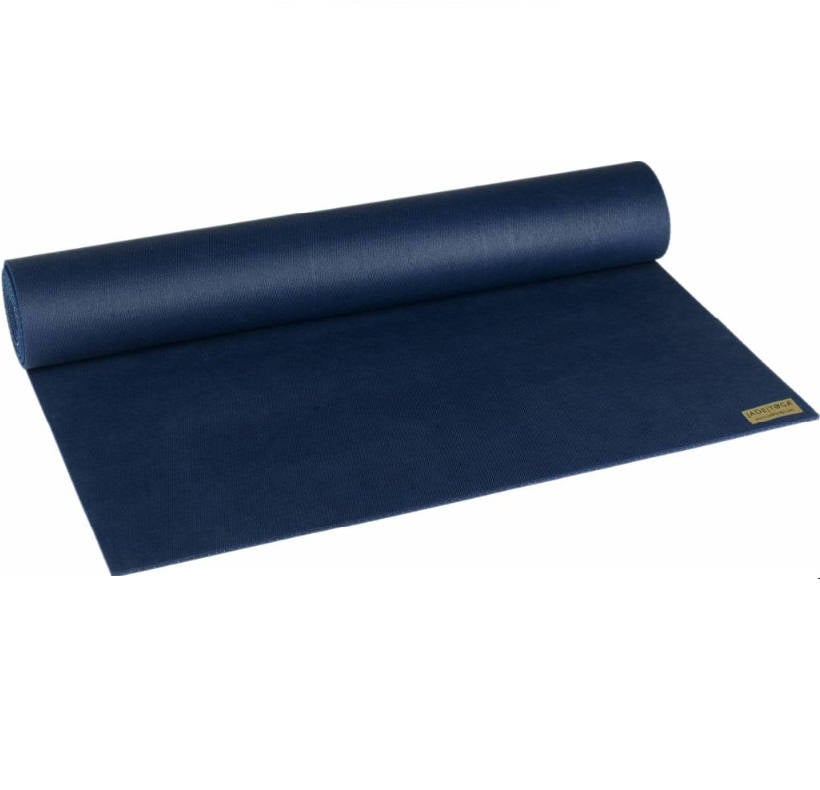 Yoga mat PVC
Yoga mats in studios are often made of polyvinyl chloride or PVC. A yoga mat made of PVC offers a lot of grip and is therefore also called a sticky yoga mat. You can easily take a PVC mat with you wherever you go: the flexible material is easy to roll up and does not tear. In fact, the material is so strong that this type of mat can easily last a lifetime. PVC is easy to maintain, occasionally wiping with water and soap or disinfectant is sufficient. These mats are also very suitable for outdoor yoga.
Yoga mat TPE
TPE is a synthetic rubber. The material is completely biodegradable, which makes a TPE yoga mat an ecological choice. These mats are slightly softer than a PVC yoga mat. The material is also very light, so you can easily take the mat with you on the bike.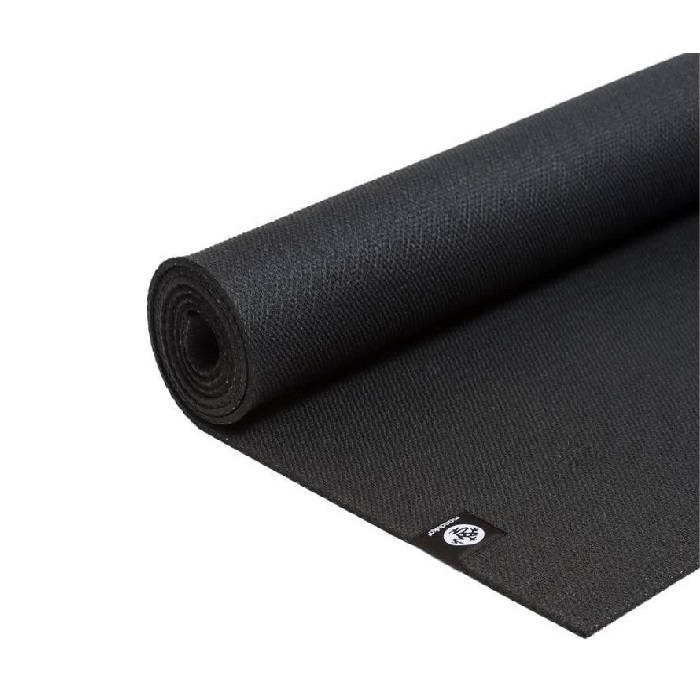 Yoga mat wool
This material is very suitable for the practice of slow Yin yoga or Kundalini yoga or a meditation. The body is extra supported by the soft wool, which makes it easier to maintain the different postures. The wool yoga mats at Yogisha are made of 100% pure new wool. No chemical materials are used during the washing of the wool. The bottom of the mat consists of 80% natural latex and prevents slipping.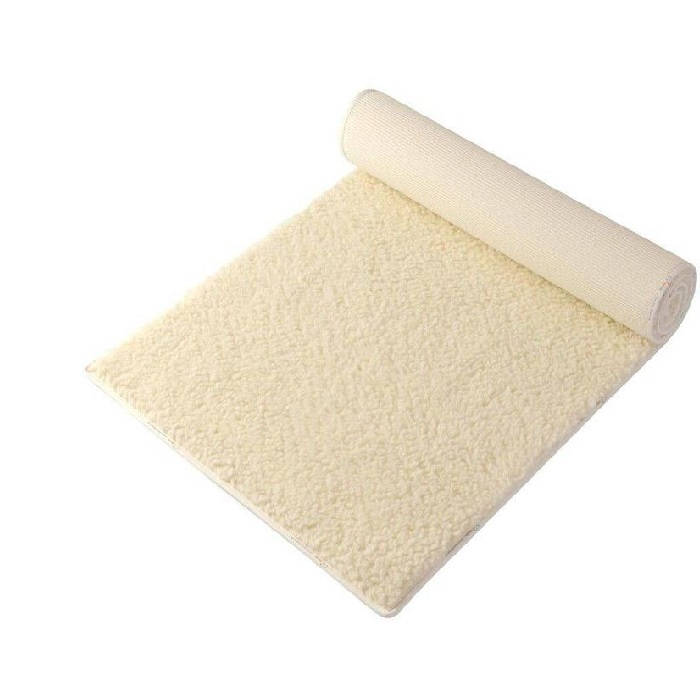 Yoga mat cork
This natural material not only looks good, but also offers extra grip. The non-slip material ensures that your feet do not slip during a warrior pose and during the savanasa the soft cork offers extra support at (lower) back and shoulders. A yoga mat made of cork is a sustainable choice: to extract the cork, only part of the cork tree is used, which will grow back on its own after harvesting.
Yoga mat organic cotton
Many thousands of years ago, the first yogis in India practiced yoga on cotton mats. This natural material feels pleasant and absorbs sweat, giving you more grip. Cotton mats are completely biodegradable and therefore an environmentally friendly choice. They are therefore especially nice to use as an extra layer on another yoga mat. The cotton yoga mats are easy to maintain: by occasionally washing them in the washing machine, you can enjoy a fresh mat again.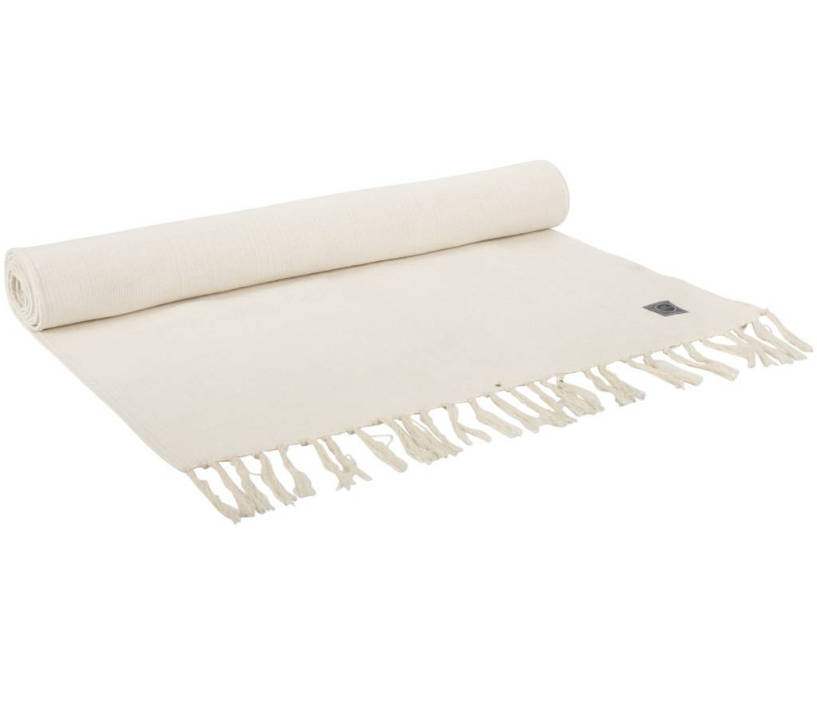 Yoga towel made of recycled polyester
With your own yoga towel made of recycled polyester, you can easily create a hygienic mat in the yoga studio to do your exercises. In addition, the yoga towel offers extra grip because the special fabric absorbs sweat. Thanks to the silicone studs on the bottom of the mat, the towel does not slip. The sustainable towels consist of 50% recycled old plastic (PET), which makes this type of yoga mat a sustainable choice. You can easily clean the towel by washing it in the washing machine.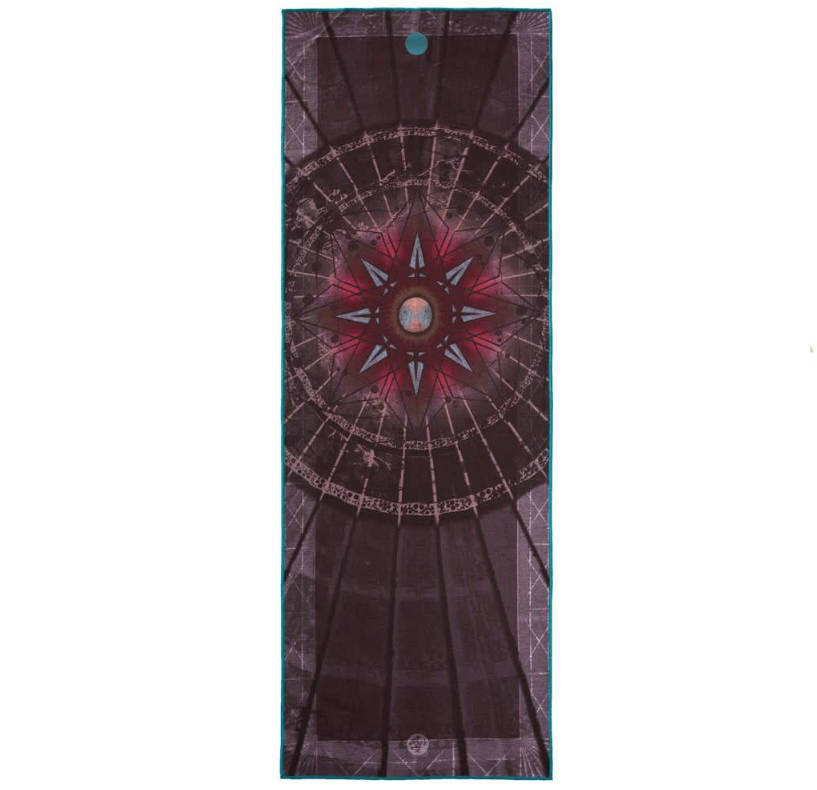 Special yoga mats for different yoga styles
While soft, thick yoga mats offer extra support with Yin yoga, with an intensive Vinyasa flow you prefer a thinner mat with extra grip. At Yogisha you will find yoga mats for every style of yoga. Via the links below you can directly view yoga mats that are suitable for practicing:
Thick or thin yoga mat
Most mats in studios have a thickness of 4 or 5 mm. Still, a thicker mat can be nice, for example for practicing quiet yoga styles. A thinner mat is nice for dynamic forms of yoga: a soft mat creates instability during balance exercises. By taking the pros and cons into account below, you always choose a yoga mat that suits your needs.
| Advantages thick yoga mat | Cons thick yoga mat |
| --- | --- |
| Extra support for joints | Not foldable |
| No problems with curling corners | Heavier |
| Advantages of thin yoga mat | Cons of thin yoga mat |
| --- | --- |
| Easy to carry | Less support for joints |
| Create your own clean mat in a studio | Not insulating on a cold floor |
Yoga mat with extra grip
Every yogi has experienced it at one time or another: while standing in a downward facing dog, your warm sweaty hands slowly slide away. In the Yogisha range you will find special yoga mats with extra grip. Even if you perspire heavily, you can do all your exercises.
Maintenance of the yoga mat
Mats made of plastic can easily be cleaned with a mild soap or a mixture of vinegar and water. A mat made of a natural material such as cotton, rubber or cork often deserves special attention. For this you will find various special cleaning sprays at Yogisha.
Yoga mat with print
In the extensive range of Yogisha you will find yoga mats in different colors and styles. From a mat with a neutral appearance to a brightly colored mat with a special print. For example, take a look at our yoga mats with alignment print , with which you can check whether you are maintaining the correct lines.
Extra long yoga mat
The standard size of a yoga mat is 60 x 180 cm. If you are wider or longer, a larger size is nice. Via the links below you go directly to our extra long or extra wide yoga mats:
Price of a yoga mat
In the extensive range of Yogisha you will find yoga mats with various prices. For example, the price of a thin yoga mat for travel starts at € 23, while an extra wide rubber yoga mat can cost up to € 155. Do you practice yoga regularly? Then do not save on buying a good mat. For example, with a high-quality PVC mat you can usually go for a lifetime.
Not sure what the right mat is for you? In this blog we help you choose!
Yoga clothes and yoga props
In addition to our extensive range of yoga mats, you will find at Yogisha:
Contact Yogisha
Would you like to know more about one of our yoga mats? If you have any questions, please feel free to contact us on 020 664 07 43 or visit one of our yoga shops in Amsterdam, The Hague, Rotterdam or Utrecht. Our employees are happy to help you find a good yoga mat.