About us
Yogisha is the yoga store in the Netherlands with a physical store in Amsterdam and a web shop. In 2009, Yogisha opened its doors as the first yoga specialty store in the Netherlands. Since then we have grown, but our emphasis on personal advice and of course our love for yoga and sustainable quality products remains unchanged!
In our store you are welcome to try on all the clothes and try the different products. Here you can, for example, test the different yoga mats so that you can experience the difference between the materials and brands yourself. You can also try sitting on our meditation cushions and benches, for example. Our expert staff can advise you on finding the right product.
Yoga Amsterdam
Address: Ceintuurbaan 306, 1072 GL Amsterdam
Opening hours: Monday to Saturday from 11:00 AM - 6:00 PM
Telephone: 020 - 664 07 43
Email: [email protected]

Sustainability and quality
At Yogisha, we strive for a range that consists of high-quality, sustainable products that you can enjoy for years to come. Our range includes clothing made from recycled plastic, bamboo or organic cotton. We prefer to have our ecological yoga mats and meditation cushions produced as close to home as possible, so that we can be sure that the production process has had a minimal impact on people and the environment.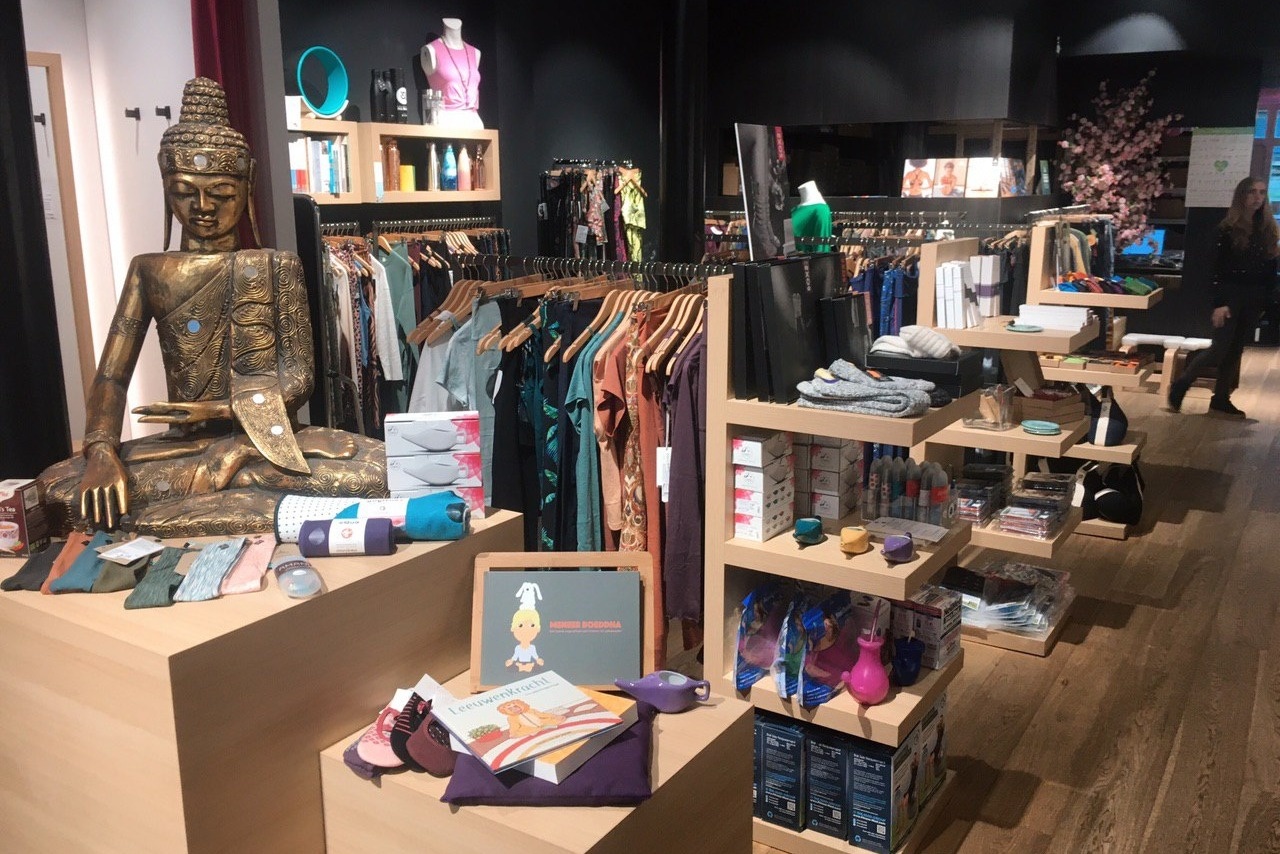 For yogis, by yogis
At Yogisha we all share one passion: yoga and meditation! Our employees are all experienced yogis or yoga teachers with extensive product knowledge. This way they can give you expert advice in your search for the perfect yoga mat , meditation cushion or yoga outfit .
Orders are shipped from our store in Amsterdam. Do you need personal advice? We are also happy to answer your questions about the various products with an online order and we can help you find the product that suits you and your yoga practice! For this you can contact us via email at [email protected]
ABOUT THE OWNER
Dominique Brandsma: "During my medical studies, I noticed that my interest was in the cause of illness, and especially its prevention. In my search for a healthy and happy lifestyle, I started practicing yoga. It brought me peace and clarity. I continued my yoga passion and followed trainings in mindfulness and meditation.
In Vancouver, New York and London I saw special yoga shops, yoga clothing lines and products. And not just for the gym. Yoga is a way of exercising, a way of moving, but also a way of life. The clothing and accessories are there to experience this lifestyle; quality products to spoil yourself with.
Even when we talk about commitment to bring yoga and meditation into our lives, it sometimes asks quite a bit of yourself. Time and commitment. You should support this a bit. Yoga is celebrating life . Quality products help with that.
The concept of Yogisha is my contribution to this celebration of life. Into the yoga lifestyle . You are welcome to share this with me. Come and visit one of my stores."