Discover the faces behind Yogisha | Photo: Suzanne Trooster
Yogisha is more than a sustainable company. Behind the name hides passionate yogis who all live and breathe yoga. They love to help other yogis in one of our stores or ensure behind the scenes that online receives just as much care. We would like to show you the faces behind Yogisha in the blog series 'We are Yogisha'.
We start this series with 3 personal 'Mother & Yoga' stories from our Yogisha yogi's Rosanne, Esther & Anthea.
Rosanne | A journey full of life and happiness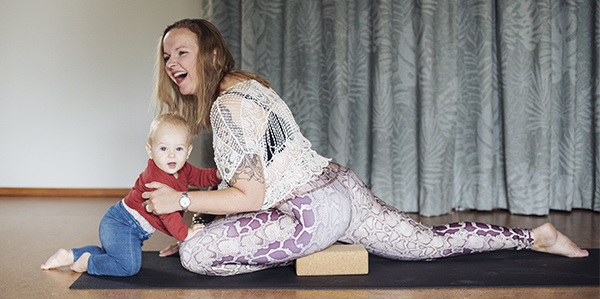 Photo: Suzanne Trooster
I got pregnant with our daughter Lola India in, you guessed it, India. My husband Erwin and I are both yoga teachers and also work for Yogisha. If you have a thing for yoga, sooner or later you have to go to India. I did my first teacher training there in 2015, in Rishikesh, at the foot of the Himalayas.
A few years later I wanted to show Erwin Rishikesh. It is such a beautiful, spiritual place. The mighty river Ganges, called Ma Ganga (Mother Ganges) by the Indians, flows through the town. We visited a Vedic astrologer there together, who announced Lola's arrival. Very special, because at that time we were traveling and therefore not trying to get pregnant. But he was right, Lola came to us in India.
Lola is now more than eighteen months old and we regularly practice yoga together. That is, I practice yoga and Lola tries to distract me. She finds the mat and the movement very interesting. If possible, she gives me a hug, a head massage, or gets in the way on the mat. So cute! But keeping the focus with such a toddler is difficult of course. A good exercise in equanimity haha!
Esther | The apple does not fall far from the tree of life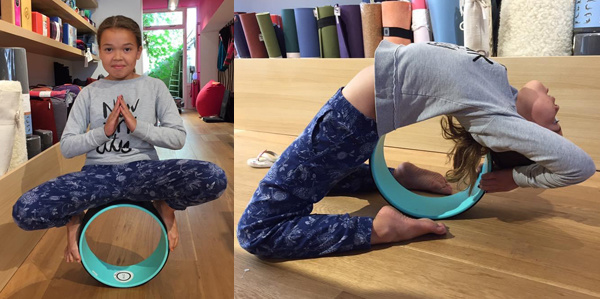 I realized how I miss my Mother's Day when I walked through the Etos last week ... Until 2 years ago I bought some nice jars of facial cream for her every year because she always applied generously.
My mother passed away at the age of 88, somewhere I'm happy that she is not experiencing this bizarre Corona era. She was wise and way ahead of her time in conscious living, she devoured spiritual books, ate according to macrobiotics and seemed to practice kundalini yoga in the 1970s when yoga only arrived just in the Netherlands. I was still young and did not receive it consciously, but unconsciously she certainly passed on her (yoga) seeds. After my 30th I was introduced to pregnancy yoga myself, but at 40 I was really ready for it and started to fully give in, just like my mother.
I myself am also a mother of 2 beautiful teenage daughters.My youngest visited me while working at Yogisha 5 years ago. She was delighted to see all the beautiful colors, smells and things. Without a doubt she went to the yoga wheel, looked at the pictures what you can do with it and yes there she went, natural talent!
Anthea | It's not about the pose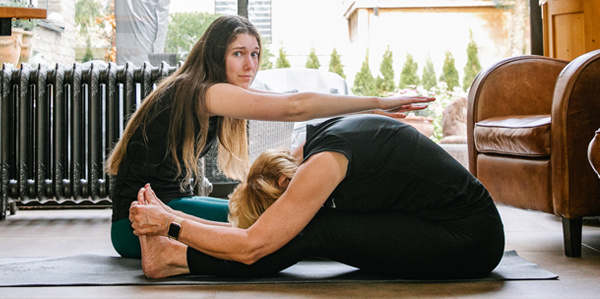 But it's still secretly a bit awkward when your 64-year-old mother breathes easily into the Paschimottanasana (seated forward fold) and you, at 28 years old, can only reach over for a few centimeters, stiff as a board. My mother has always been sporty and does a lot to keep her body & mind as healthy as possible. It didn't surprise me that she also became interested in yoga when I started doing it a few years ago.
She took hot yoga classes for a long time while I went to another yoga teacher for my Hatha classes. Unfortunately our beloved studios also had to close because of corona. Fortunately, the range of online lessons has grown over the past years. Take for example, Yoga with Adriene or the new online platform from Balanzs.
Yoga was already something we shared with each other, but the last year and a half has meant that it has really become something of us together. The two of us decided to follow an online practice every day. The perfect mother-daughter moment, which we will certainly keep after the pandemic.
Do you have a nice story or photo on the subject of mothers & yoga? Show us via the #yogisha_store or tag @yogisha_store