Neti Pot Nosebuddy - Green
Neti Pot Nosebuddy - Green
The Neti pot is meant for the daily ancient yoga practice of the neti-cleaning of the nasal cavities with salt. This has many great effects on your health:
It promotes the daily hygiene of the upper airways and gives a lighter, easier and improved breathing.
It prevents respiratory tract infections such as colds and flu.
It reduces allergic problems such as hay fever and asthma.
It promotes free breathing with a blocked or running nose and with increased mucous secretion.
It moistens the nasal mucous membranes and nasal channels in dry air.
It promotes the healing of acute or chronic inflammations of the nasal mucosa (rhinitis) and forehead cavities (sinusitis).
It helps against snoring and it also improves breathing while sleeping.
It improves the smell and taste.
The Nosebuddy is the ultimate neti pot from the Scandinavian Yoga and Meditation School, Sweden. It has a unique construction that results in a very good glow of water and can hold a large volume (0.5 litre). The long curved spout makes it easy to cleanse the nose even if it is severely congested and a measuring spoon for salt and measuring mark for water makes it easy to use the correct salt content every time. The NoseBuddy is transparent, so you can see the water level.
Light and durable, the NoseBuddy neti pot is ideal either at home or when traveling - made from light, durable PP plastic. Both adults and children can easily use the NoseBuddy and can easily become a natural part of daily hygiene regime, similar to brushing your teeth! 
Features:
Unique construction
Holds 0.5L of solution
Measuring spoon included
Light and durable, made from PP plastic
Easy to use as part of your everyday cleansing routine
Designed and created in Sweden by the Scandinavian Yoga and Meditation School
See the full instruction for how to use a Neti below. The Nosebuddy also includes a detailed instruction booklet.
Rinse the pot and spoon with clean hot water prior to using the first time.
1. Put one level measuring spoon of salt (4.5 g) in NoseBuddy.
Use fine-grained table or cooking salt – preferably one free of additives, such as iodine or anti-caking agents. Coarse-grained salt may be used, but make sure it fully dissolves.
We recommend using rock salt (from mines), since some people may experience reactions to sea salt, such as a stuffy or runny nose.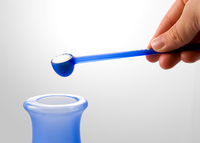 2. Fill the pot with clean lukewarm water up to the mark (0.5 litres).
Use lukewarm or body temperature water. If you are on a location with tap water of high drinking quality you can choose to use water straight from the tap – always let the water run awhile (½ –1 minute) before filling the pot. 
On locations with poor–quality tap water, hot climate or strongly chlorinated water, we recommend always boiling the water prior to use, or use distilled or sterilized water. After boiling the water, let is cool down to body temperature.
If you have dry mucous membranes (for example after a long flight) you can add a few drops of vegetable oil, such as almond/sesame oil, to the water.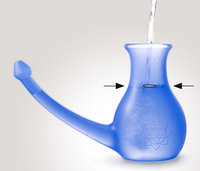 3. Stir the water until the salt fully dissolves.
The water now has the same salt concentration as body cells. This is an isotonic solution (0.9% salt). The correct water temperature and salt concentration will ensure a pleasant experience.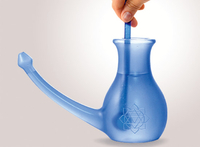 4. Cleanse your nose.
Insert NoseBuddy's spout into one nostril so that it fits snugly. Breathe gently through your mouth.
Lean forward over a sink. Tilt your head slightly to one side, with the pot following the same angle, so that the water runs in through one nostril and out the other.
Pour half a pot in through each nostril. Gently blow your nose after cleansing to each side (see step 6).
If your nose needs more thorough cleansing, use a full pot for each nostril.
5. Let the water run out.
Bend forward, your head and arms hanging down loosely. Allow the excess water to run out of your nose. Dab with a tissue.
6. Blow your nose.
Stand up and gently blow each nostril separately. Avoid vigorous blowing.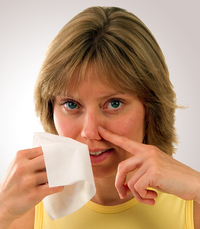 0

stars based on

0

reviews
0

stars based on

0

reviews