"Yoga has made me a lot more confident and it helped me overcome my fears. Yoga also shows me how strong my body is and what it can do for me."
There is an inspiring story behind every Yogisha yogi. Just like there is behind Yogi Laura, 23 years old and just graduated in Wageningen as an ecologist. Her passions are nature conservation and acro yoga / acrobatics. Read below how she came into contact with Acro Yoga, what yoga does to her and how long she has been using her Onzie leggings.
The story behind yogi Laura
I actually started with Pilates, which I thought was a very nice challenge. It was tough and I always felt strong after class. I did Pilates at a yoga studio and through that studio I also started yoga. First hatha yoga, but then on to more physically challenging yoga such as vinyasa and power yoga.
I was on a farm in England for a nature conservation traineeship two years ago, where I did yoga every day in a yurt with the other students. One of them went to acro yoga a few times in the nearest village. It was only at the very end of my time that I went along for once. Even with my extreme fear of heights, I loved it. When I got back to Wageningen I was pleasantly surprised that acro yoga was also taught here at a student association, so I went there with one of my best friends. And we actually never stopped from that moment on.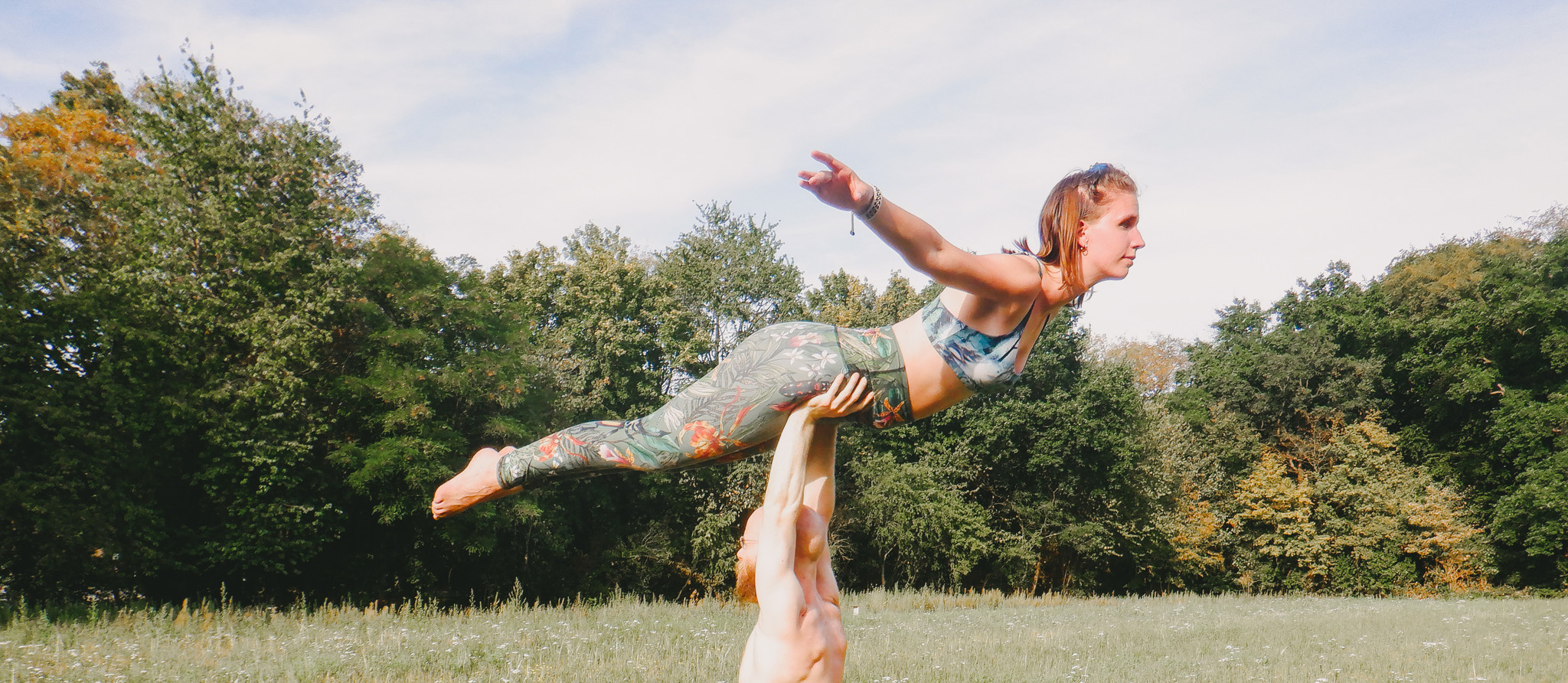 We became good friends with the teacher, who led us more into the acro yoga community in Wageningen. He also took us to a small circus school here, where we regularly practiced acro. About 1.5 years later I also started with arial hoop, my roommate at the time teaches it and it was easy to arrange with the hoop in the circus. I have also started with online flexibility lessons from a contortionist, which is also great fun! So I am so happy that I came into contact with many different forms of yoga.
Yoga means so much to me. Especially acro yoga has helped me a lot with trusting my body. I am quite afraid of heights and therefore started as a base (the one standing or lying on the ground). My acro teacher pushed me to start flying, which I really like now! Yoga has made me a lot more confident and it helped me overcome my fears. Yoga also shows me how strong my body is and what it can do for me.
It is so difficult to choose which styles of yoga I like best, because each style brings something different. For example, Vinyasa yoga gives me a lot of peace in the mind, while acro makes me laugh a lot. At the moment I do choose acro yoga, because I miss it quite a bit due to the corona times.
We are of course curious what your favorite item from Yogisha is and what the story behind it is?
This is difficult one! I think I should go for my oldest leggings (probably around 8 years old haha), from Onzie. I have had these leggings since my first yoga class and they were there with every new adventure. The leggings went all the way to England & Ecuador where I did fieldwork. It is a super brightly colored legging, and my friends think that it suits me completely.
For my thesis I traveled to the rainforest of Ecuador to research the behavior of wool monkeys. Before that I worked at an animal rehabilitation center where animals are taken in and rehabilitated that would otherwise not survive. In addition to my research, I also looked after the animals and gave tours for the tourists. So I wore these brightly colored leggings topped with a bright green T-shirt from my university and a colored headband. A few Russian tourists thought I was very cheerfully dressed and wanted to take a picture with me! Unfortunately I don't have the photo myself.
Besides my oldest leggings, I also have the Green Thumb leggings from Yoga Democracy with a jungle print. This way I always carry the rainforest with me a little. They are both also super good quality leggings. I also have two sports bras that are the same age as my oldest leggings, they also last very well and are also very brightly colored. Other products from Yogisha that I am very happy with are my old trusted yoga mat, a yoga towel (because I sweat a lot), and my booty shorts!
What is your most memorable yoga moment up until now?
There are many. First time acro, first handstand, first time high bird (the dirty dance move), first time crow and headstand. So many beautiful memories. The most memorable thing is when I broke my wrist 4 months ago after falling from the 'shrimp' (look it up, a very nice acro move). Actually, that's not even the most memorable, because that was when a week later I did acro again with my wrist still in the cast!
Which advice or wise lesson do you want to give fellow yogis?
Don't be afraid to try new things. Many of the things that scared me the most are now one of the most enjoyable parts of my life. Don't be afraid to make a fool of yourself, do what you like and don't listen too much to what others say about it. 
Laura's Wishlist
Ben jij ook blij met items die je bij Yogisha hebt gekocht en heb jij ook een yoga verhaal welke je wilt delen? Mail dan naar [email protected] met als onderwerp 'Yoga interview'.