If you prefer to meditate on your knees, a meditation bench might be the perfect fit for you! Discover all the benefits of a meditation bench and the secret to finding the perfect posture.
Meditation benches are especially designed for meditating in a kneeled position and allow you to meditatie comfortably for a longer time. A bench will support your upper body, stimulate you to sit upright, and reduce the pressure on your knees, shins and ankles. If you prefer to sit on your knees during meditation, a bench might be a better fit. Here's why! 

Sit upright
The seat of a meditation is sloping slightly forward. This allows your hips to tilt forward, making it easier to keep your spine straight and preventing you from rounding your lower back. Because of this straight, active sitting position you will experience no compression in your lower back and you can sit comfortably for longer.

No numbness
When sitting in a cross legged position, many people experience numbness or a tinteling sensation in the groin and upper legs. This is caused by compression at the knees and tension in the groin, both of which trouble the blood circulation in your legs. In a kneeling position, this pressure is more easily distributed and there is less tension in the groin area. This allows you to sit longer without that numb or tinteling feeling. 

Breathe deeper
Because the kneeling position is so upright, your longs have more room to expand. This allows you to breathe deeper during your meditation. 

Enhanced concentration
Sitting on a meditation bench requires some activity of your abdominal muscles to keep you upright and you have to keep your balance to prevent swaying to one side. This subtle activation can help you to stay more focussed during your meditation.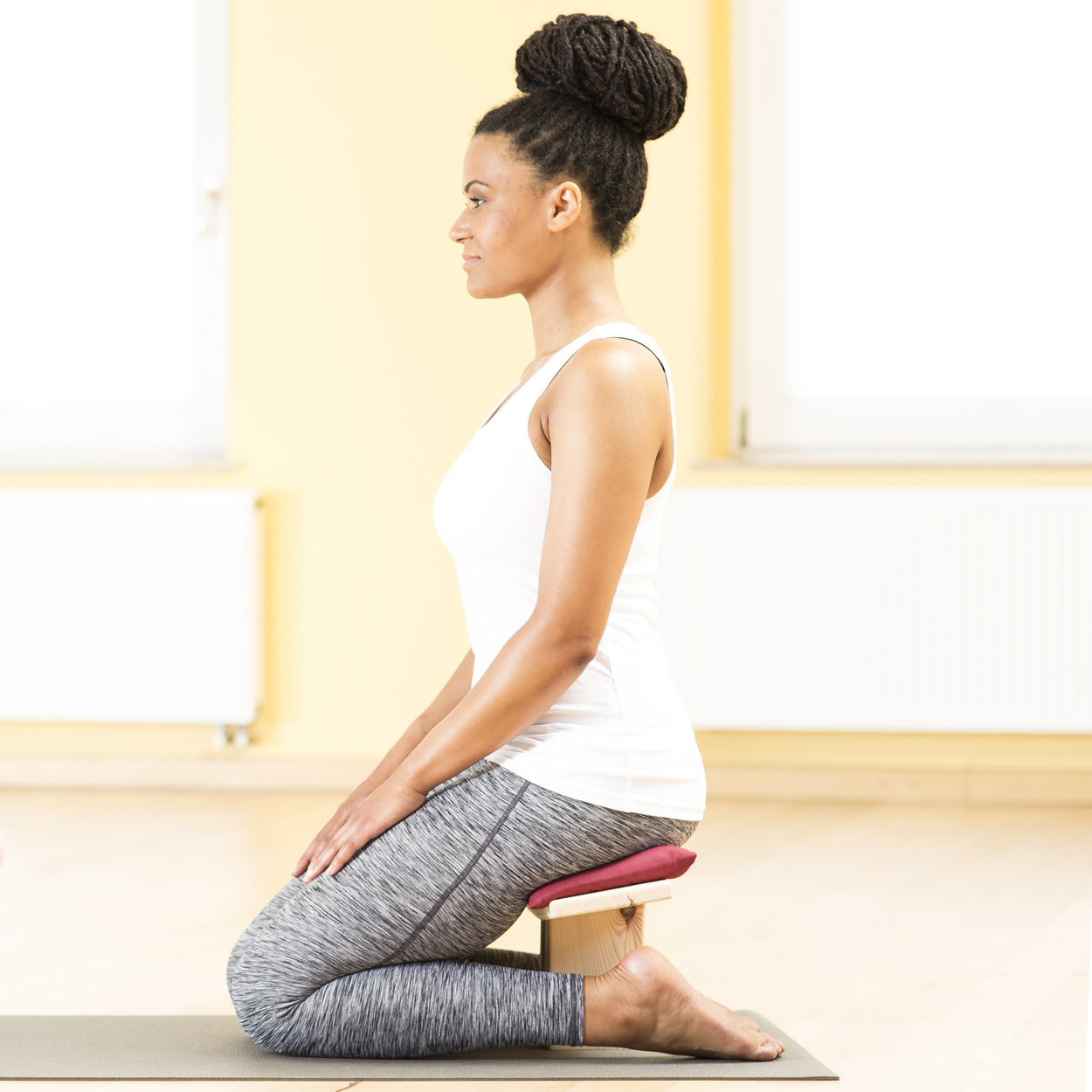 How to sit on a meditation bench?
A soft surface
It is best to use your meditation bench on a soft surface for two reasons. Firstly, this is more comfortable for your knees and ankles. Even though the largest part of your weight is supported by the meditation bench, there will still be some pressure on your knees and ankles. It is best to support them on a soft surface. Secondly, a soft surface will prevent your meditation bench from moving while you meditate. If you use your wooden meditation bench on a hard surface it might slip. Always use your meditation bench on a yogamat or, for added comfort, a zabuton. A zabuton offers more support and, because of its isolation qualities, will prevent cold from creeping up from the floor.

Keep your ankles flat or support them with a towel or blanket
If your flexibility allows, the ideal position for your ankles is to keep them flat and straight behind you, with the soles of your feet facing upwards. If this is difficult, you can roll up a blanket or towel and place it under your ankles. This will allow them to rest in a natural position without flopping to the side.


Opt for a cushion
The hard wooden seat of the meditation bench might not be too comfortable for your sit bones. Opt for a small cushion for added comfort. 

Keep your back long and straight
Meditation benches make it easier to sit up straight, but you will stay have to pay attention to your posture. Try not to lean forward too much or slouch. It can be useful to envision a string pulling you up from your crown, towards the ceiling. By visualising this, you will automatically keep your back straight and create space in your spine. 
Meditation benches at Yogisha
At Yogisha you'll find meditation benches with different designs and heights. There are a few important differences that you can pay attention to when searching for your perfect meditation bench! 
Fixed angle or rounded legs
The seat of a meditation bench is always slightly sloping forwards. This can be achieved in two ways: with a fixed angle or with rounded legs. The image below illustrates the difference. A bench with a fixed angle is more stable, but does not offer the possibility to alter the angle of the seat. A bench with sounded legs requires a more active posture and offers the possibility to experiment with the angle of the seat.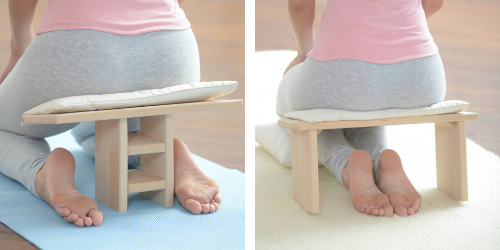 Legs together or apart
There are meditation benches with the legs in the middle, and those where the legs are placed on the outside. It is useful to consider where you like to place your legs when you meditate: together or slightly apart? The picture above illustrates the difference. An added advantage of meditation benches with the legs in the middle is that you can easily slide your own legs under from the side. 

Foldable
Some meditation benches have foldable legs, allowing you to easily take it with you wherever you go. This is a great feature when you plan to transport it a lot, but it also slightly reduces the stability of the bench. If you plan to mostly use the bench at home, you may sit more comfortably on one without foldable legs.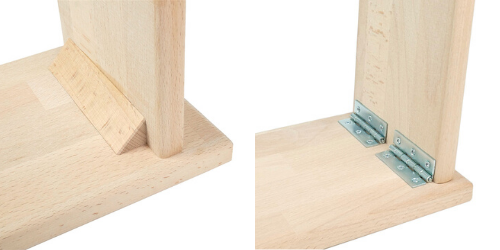 For an even more comfortable meditation posture it is great to combine your meditation bench with a zabuton or meditation mat. Also discover our other meditation products like meditation pillows, chairs, eye pillows and blankets. 
Need some help or advice?
Would you like to get some help or advice in finding your perfect meditation bench? We are happy to help! You reach us via email at [email protected] or call to 020- 664 07 43. You can also try out all our meditation benches in our stores in Amsterdam and The Hague.