The yoga mat is the most essential attribute for every yoga practitioner. While a yoga mat seems quite simple at first glance, there are many differences in material, dimensions, and texture. The different yoga mats all have their own advantages and disadvantages, and are suitable for different styles. We'll talk you through it and help you find your soulmat!
Anyone who has ever done yoga on the carpet has experienced it: your stability is gone, it is difficult to find your balance on the uneven surface, and your hands and feet are sliding away. A good yoga mat offers a solution to all these issues, but there are many differences between the mats. Finding your ideal yoga mat that fits your yoga practice makes yoga even more enjoyable. We'll help you find your soul-mat!
Sizes
The standard width of a yoga mat is 60 cm, but you can also opt for a wider yoga mat. This is certainly nice if you have a bigger body. Yogisha also has yoga mats of 66, 70 and 80 cm wide. The standard length is between 180 and 183 cm. Variations are also possible here and Yogisha has extra long yoga mats up to 215 cm. In general: choose a length that is slightly longer than your body.
Material

 

The most common yoga mat is made of plastic called PVC: a sticky, light, and very durable plastic that is easy to roll up and does not crumble. More luxurious PVC yoga mats, such as the Manduka Prolite and Pro, have a fabric of fiber inside to make the mat stronger and prevent tearing. PVC yoga mats are very durable, easy to maintain, and resistant to all conditions.

 

The newest type of plastic used for yoga mats is TPE. TPE yoga mats are also called eco yoga mats, because the material is biodegradable. The yoga mats made from TPE are quite soft and very lightweight and therefore easy to carry.

 
         
In addition to plastic mats, Yogisha also sells eco yoga mats made of natural rubber. This material offers the best grip, even with perspiration, and comfortable cushioning for your joints. Rubber yoga mats are slightly heavier than PVC and lie very stable on the floor without curling up. Natural rubber is slightly less durable than plastic and requires a little more maintenance. There are numerous yogis and yogini's who swear by the natural character of a rubber yoga mat.
Thickness
The standard thickness is around 4 mm: thick enough to form a soft but firm buffer between you and the floor, thin enough to roll up and take with you.
In addition, Yogisha has yoga mats of 5, 6 and 8 mm thick, which offer just a bit more support. This is very nice if you have sensitive joints or a heavy build. Another advantage of a thicker yoga mat is that it is very stable and flat on the floor, forming a solid base that does not shift, even if you are jumping.
TPE yoga mats are also thicker than average, but still very lightweight. These softer mats are mainly suitable for Yin and Hatha yoga, or Pilates.
| | | |
| --- | --- | --- |
| Yoga mats of 1 to 2 mm are especially suitable for traveling. Most travel yoga mats can even be folded and carried between your clothes in your bag or suitcase. That way you can do yoga anywhere, even if you are on the go a lot. You can also use these mats as an extra top layer over the mat in the yoga studio. This way you'll have a hygienic, and super grip-resistant yoga mat without having to carry around a lot of weight. |   |           |
Grip
A yoga mat offers grip on both sides: at the bottom to prevent the mat from sliding on the floor; at the top to prevent you from slipping during yoga practice. Yoga mats provide grip through a combination of material and texture. Natural rubber mats usually offer the best grip, even with perspiration. The latest generation of rubber yoga mats, such as the Manduka GRP and Liforme, have 'dry-grip technology', which ensures that no moisture remains on the mat so that you are always assured of the best grip, even with heavy perspiration.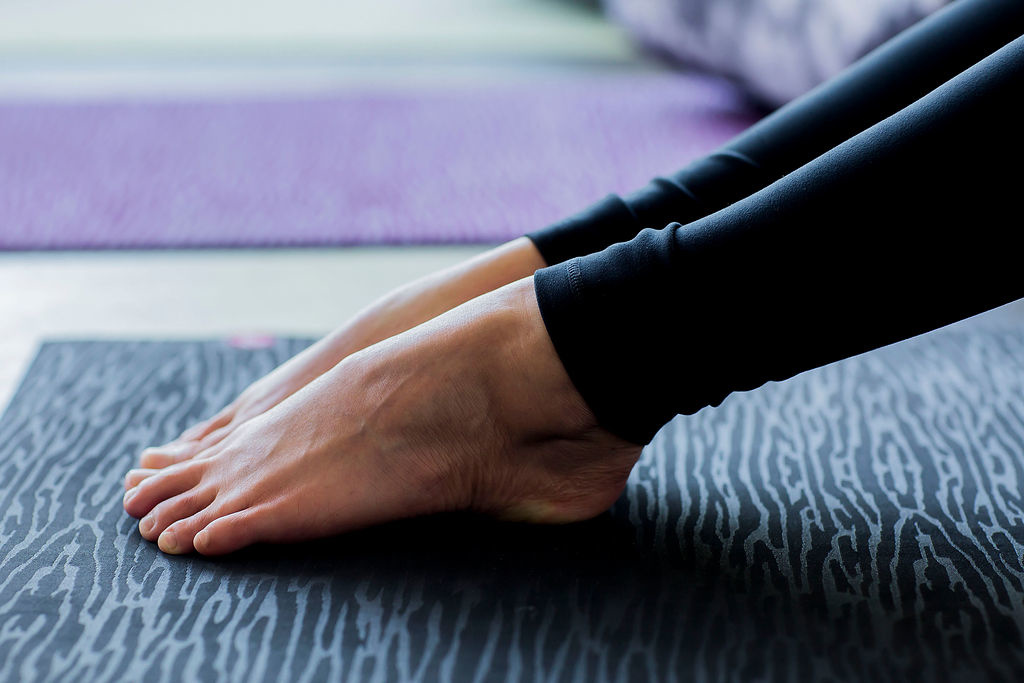 Colors & patterns
Because yoga mats are poured from a liquid state and dye can be mixed in, they are available in all colors of the rainbow. You can therefore choose a color that suits your own taste or interior. Yoga mats made of natural rubber are also available in different colors.
In addition, there are now yoga mats with 'Alignment Print', a minimalist line pattern on the yoga mat that helps you to check that you are straight and symmetrical in yoga postures. Examples of these are the Liforme or Manduka Begin. 

Hygiene and cleaning
If you regularly practice yoga in a yoga school then it is nice to buy your own yoga mat and take it to class. Make sure you always use the same side for the floor. It's good to clean your yoga mat regularly, especially if you are sweating a lot. Some yoga mats, like the Yogisha Studiomat, can be machine washed but for most mats it is better not to submerge them in water. You can easily clean your yoga mat with a damp cloth and a mixture of vinegar and water.After you have cleaned it, allow it to dry in the air before rolling it up.
Yogisha also has special yoga mat cleaning sprays based on essential oils to refresh your yoga mat and give a nice scent. If you have a rubber mat, these sprays will also prevent your yoga mat from drying out or discoloring.
Price
Yoga mats are available from € 22.95 and the prices go up to € 130.00. It is recommended to pay attention primarily to quality and the 'feel good factor' when purchasing a yoga mat. Especially when yoga is your passion, it is a shame to want to save a few euros on this most basic essential.
Still not sure?
No problem! In our yoga shops in Amsterdam and The Hague you can try and compare all the mats. Our experienced store yogi's can give you advice and help you find the perfect mat. Don't live closeby? No problem. You can email us or call one of the shops with any of your questions and we'll be more than happy to help you.
All yoga mats are for sale in our yoga shops as well as in our online yoga shop.
Extra: Tip during your yoga practice
Make sure you always carefully place the yoga mat parallel or perpendicular in relation to the profile of the floor or the lines of the walls. This external symmetry supports the inner symmetry of the asanas. If the yoga mat is misaligned for our sense of orientation, the postures will also feel crooked!