Essential oils can be a great addition to your yoga or meditation practice - they can help invoke a certain state of mind or help to warm up the body or relieve sore muscles. Different oils have different effects and benefits, in this blog we'll tell you all about it!
Essential oils for yoga practice
Have you tried combining essential oils with your yoga practice? Essential oils work on both an emotional and physical level - just like yoga.
You can massage a blend with essential oils to ease achy muscles or to help enhance the detoxing and releasing element of your yoga practice. Or perhaps anoint your pulse points to support you on a more emotional, mental or meditative level. In this blog we'll highlight the different ways you can use essential oils during yoga and meditation practices and their benefits.
Physical benefits of essential oils in yoga
Let's start with the physical body. Practicing Abhyanga, oily self-massage, is a common Ayurvedic practice for health and wellbeing. Obviously, you don't want to get too oily before your yoga practice. But using a blended oil helps the circulation, warm up the muscles and if it includes essential oils it will have the extra benefits of aromatherapy.
Some essential oils are more beneficial to apply before practice than others. These three of our pre-practice favourites:
- Sweet Marjoram relieves and revives tired limbs. It's perfect for achy muscles.
- Ginger is warming and helps blood circulation. This is excellent for both pre and post yoga practice. It's great for your digestion too.
- Petitgrain has a beautiful uplifting floral aroma. It eases muscles while maintaining tone. Also aids the digestive and nervous systems  and brings a state of equilibrium mentally and physically
We love applying Yogandha Muscle Soothe both before our yoga practice to help warm up our muscles and afterwards to soothe any aches. This blend includes all 3 of our favourite essential oils.
Mental and emotional benefits of using essential oils in yoga
Essential oils are a great way to help induce a certain state of mind or mood in your yoga practice. Different oils invoke different mental states, so it all depends on what you're looking for: grounding, uplifting, or maybe balancing? 
To get into a more meditative mood for our yoga and meditation practice we reach for frankincense and sandalwood. These two oils have long been used in religious and spiritual practices including those in churches and temples! Both frankincence and sandalwood extremely grounding, brings stillness of the mind and calm. They are beautiful precious essential oils for meditation or to get grounded. Before our meditation or Yin yoga practice we like to dap a little Yogandha Ground Rollerball onto our pulse points such as temples, and wrists to bring on the calm. This product contains both sandalwood and frankincense as well as vetiver which is one of the most grounded essential oils perfect for an anxious or busy mind.
However, if we need more energy and need a bit of lightness in our day we reach for citrusy essential oils such as grapefruit and bergamot. These joyful essential oils immediate lift our spirits. Other essential oils for clarity of mind include rosemary and ravensara. They both lift any dullness, tiredness as well as congestion. They are all included in Yogandha Salute Rollerball which we like to use any time we feel a little low or tired. It also gives a boost if we need the energy to go to a yoga class or roll out the mat at home.
But yoga is really all about balance. Many essential oils actually have balancing qualities whether for the skin, mind or emotions. Lavender, geranium and palmarosa are some of the most popular balancing oils and used for everything from skin issues to hormonal balance.
Jasmine is an interesting essential oil when it comes to balance. It has a heady, floral and sensual aroma. It's extremely feminine yet also known as the 'king of oils'. It has many spiritual connotations yet it is also an aphrodisiac. It's an uplifting joyful oil that is also grounding and heady. It's one of the components in Yogandha Balance Rollerball along with the 3 main balancers mentioned above.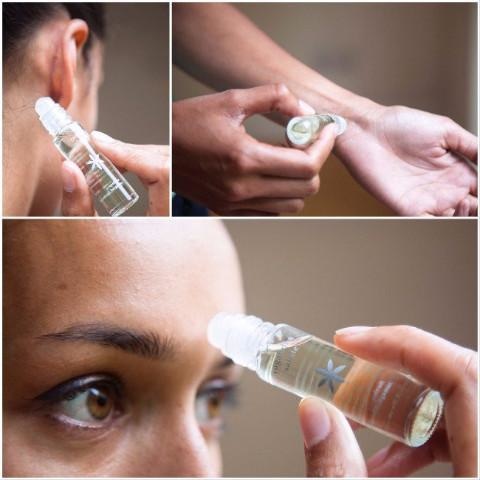 All Yogandha rollerballs can be easily applied on pulse points such as your wrists, behind your ears, or on your third eye. They're also super easy for on the go - so you can have a little moment of self-care or spirituality wherever you need it.
There is so much more to using the power of essential oils for yoga and meditation. Yogandha shares ideas and inspiration on yogandha.com where you can also find FREE webinars and online courses. Do you have any questions or want to share your opinion? Head over to the Yogandha Facebook page, where Sinead (the founder of Yogandha) hosts a Facebook Live every Wednesday or find them on Instagram at @yogandhaoils