If you want to practice yoga at home, creating a dedicated yoga space is key to focus and consistency. But, what do you need and how do you make it as nice as your favorite studio?
The perfect yoga space at home
Take a moment to think about your favorite yoga studio. Besides the teachers, what is it makes you like this studio so much? Chanches are, that the space itself has a lot to do with it. From the way the light falls in to the materials used - spaces can have a really big impact on us. The right space can help you to calm down, focus and get into that yoga state-of-mind. So, how do you achieve this at home? With our tips you'll create your perfect yoga space at home in no time!
Find you spot
First things first, you have to decide where you would like to make your yoga space. You don't need a lot of space but make sure that your mat can fit comfortably. Ideally you would still have some room around it. You don't need a sperate room, a quiet corner in your bedroom also works great! 
Also think about lighting. Having daylight is definitely a plus, but sunlight shining into your eyes can be unpleasant. Do you prefer to practice yoga or meditate in the morning? Try to find a spot where the sun won't shine into your eyes or arrange some curtains.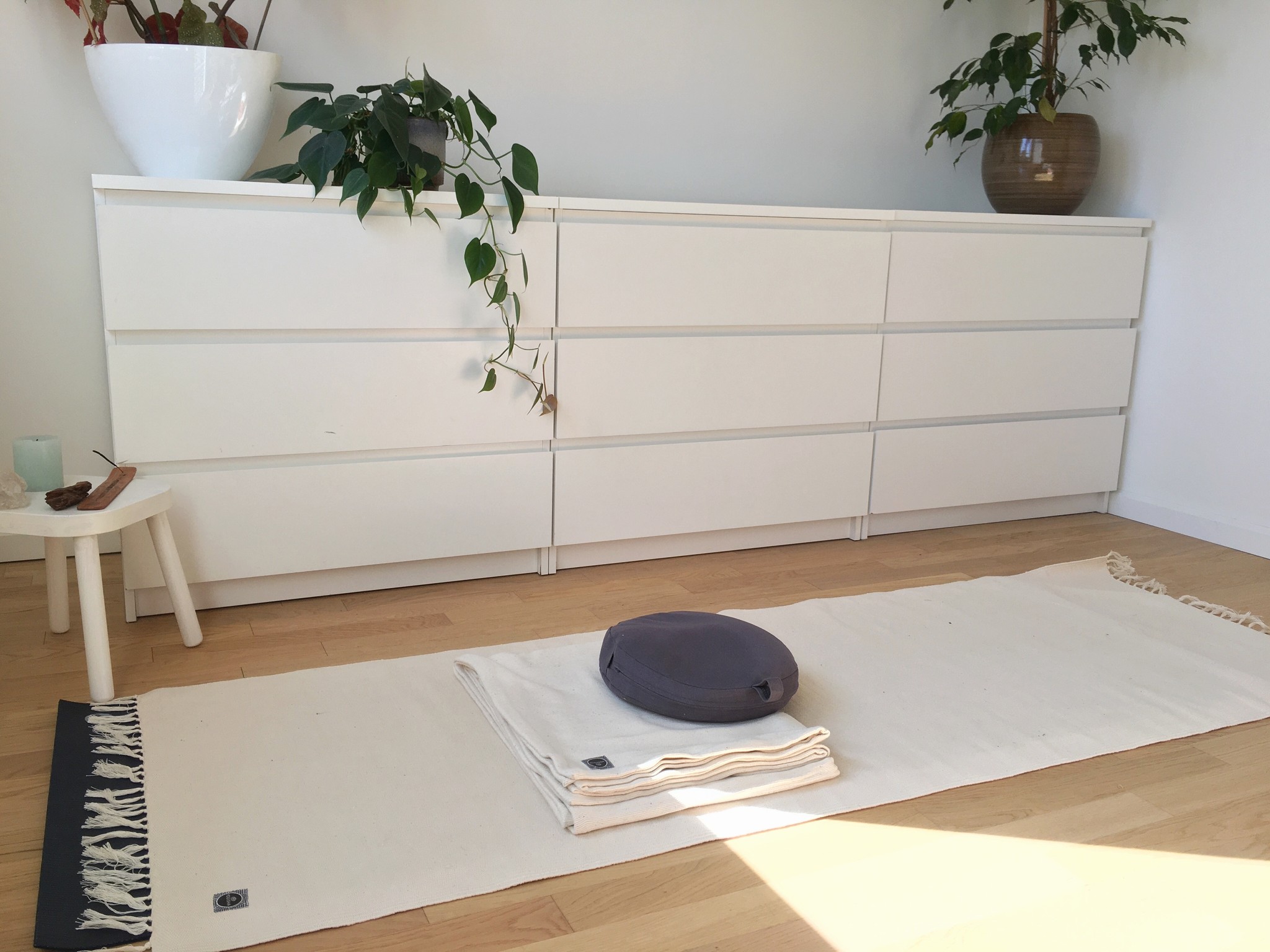 The basics
You might have guessed it, but the first thing you need for your home space is a yoga mat. If you don't have a yoga mat yet, pick one that is suitable for the style(s) you prefer to practice. If you like to practice more slow-paced styles of yoga, such as Yin or Restorative, a thicker, softer yoga mat might be nice. For more dynamic styles such as Ashtanga it is better to choose a mat that is wearresistant and stable, like the Manduka Pro. Yogisha has a wide selection of yoga mats available and a blog to help you choose. There is a soul-mat for you, no doubt!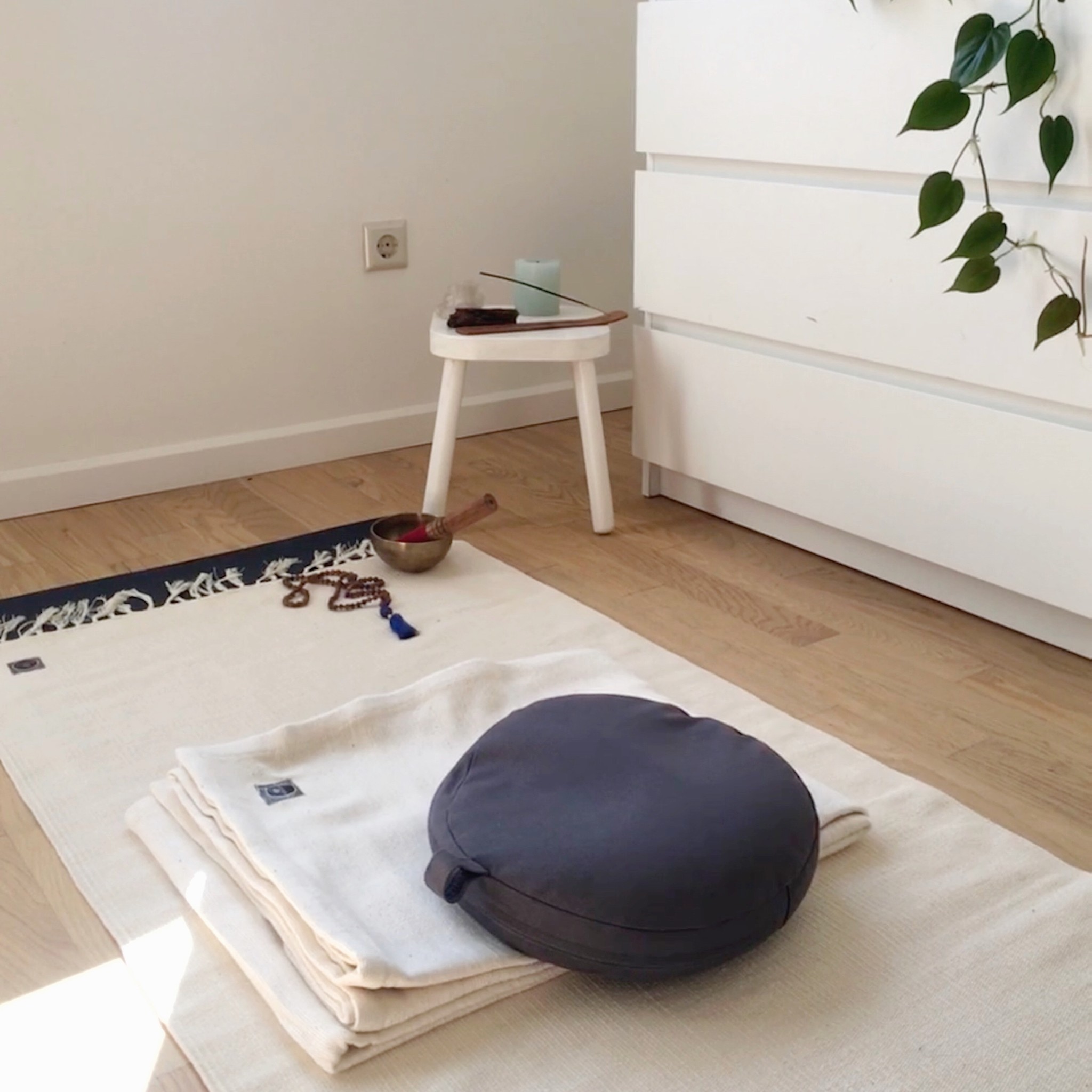 If you like to meditate you will also need a seat. Most meditation cushions are round and you generally sit crosslegged on them. The right height of the cushion depends on your own height and the flexibility of you hips. If you are quite tall and not so flexible in your hips you should pick a higher cushion, and vice versa. At Yogisha, all meditation cushions are filled with buckwheat caff. This natural material is firm, durable and takes on the shape of your body. All cushions have a zippered inner and outer cover so you can easily adjust the filling over time. 
Do you prefer to sit on you knees? Then opt for a higher cushion (13 or 17 cm), a bench or even a sturdy buckwheat bolster. A bolster can also be used for other postures.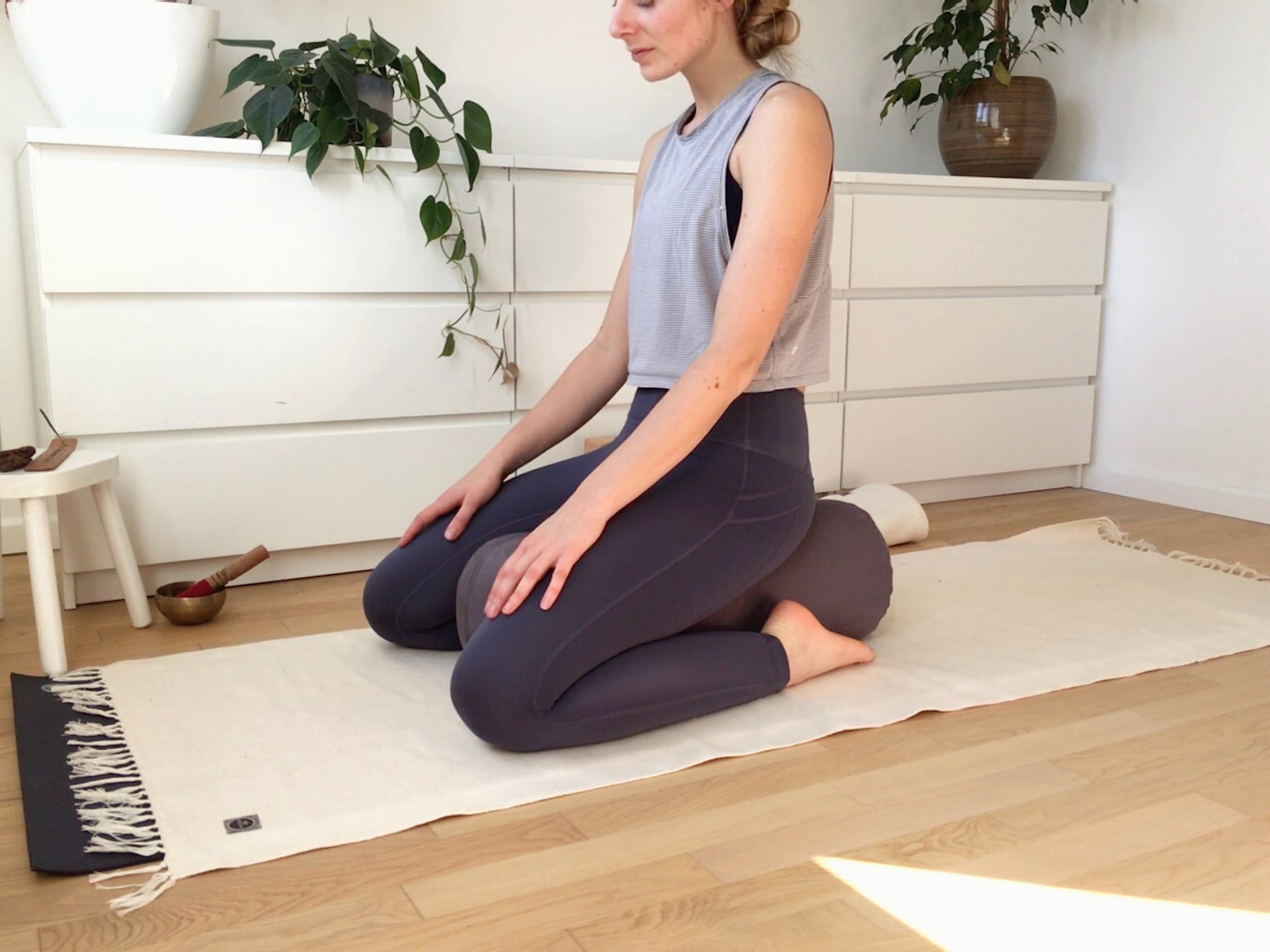 Props
Depending on the style of yoga that you practice, it's probably nice to have some props handy. The most used props are blocks and bolsters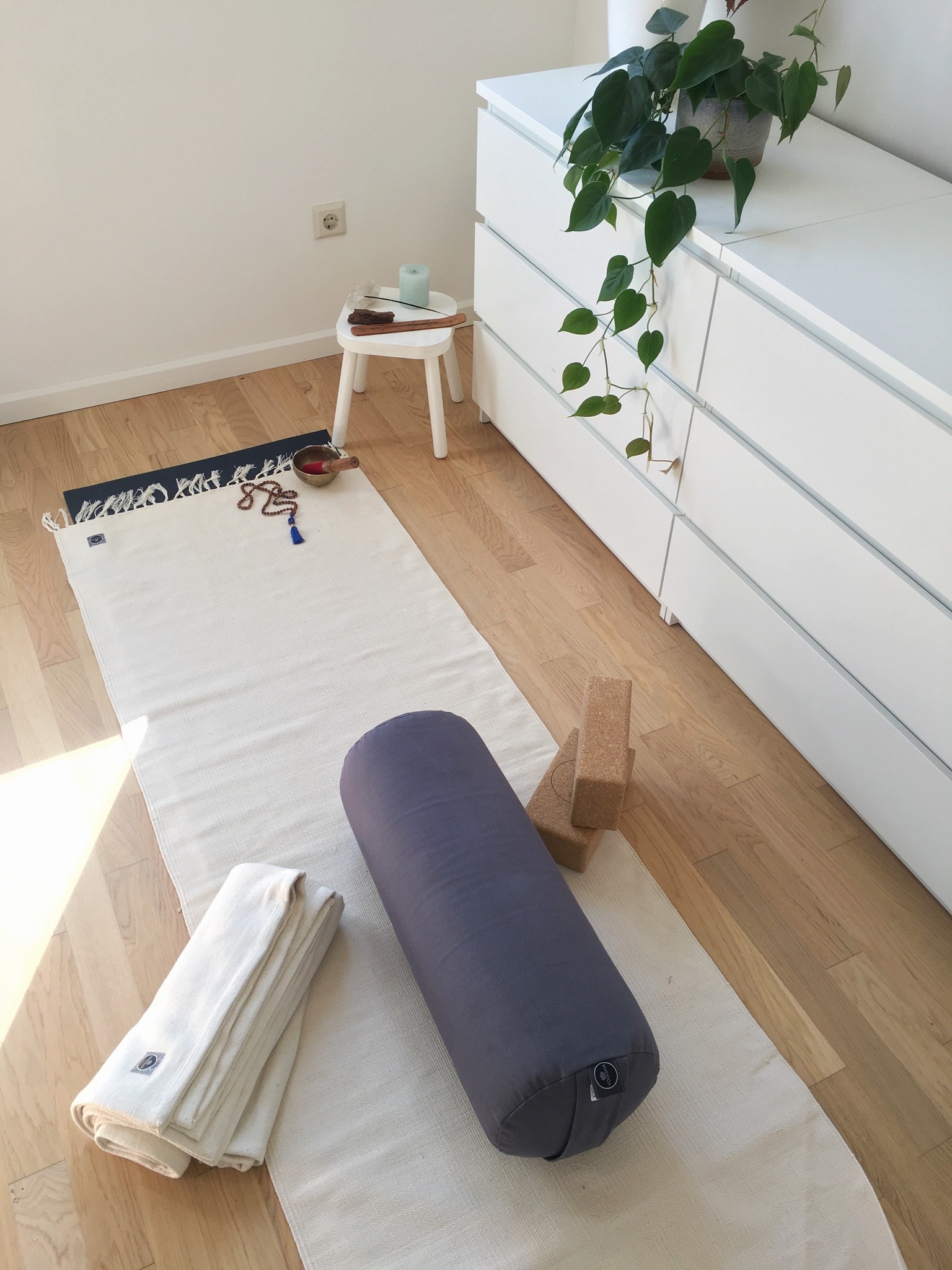 Blocks are versatile yoga props that are useful for both restorative and more dynamic styles of yoga. In a dynamic practice, blocks can be used as an extention of your arm in standing postures or to add some hight in arm balances such as crow pose.

During a restorative practice blocks can be used to rest on or lift part of your body up. In a forward fold you can rest your head on a block, preventing you from straining your neck, and in a backbend you can use it support your hips up. Blocks are available in different dimensions and materials. Blocks made from wood are very stable but not very comfortable to lay on. Cork blocks are less hard, feel comfortable on the skin and offer good grip. Foam blocks are the most soft and very comfortable to lay  down on.

Bolsters are large, sturdy pillows that offer extra support in different yoga postures. They are predominantly used in more slow-paced styles of yoga such as yin yoga, restorative yoga and yoga nidra. By surrendering your weight into the bolster it is easier to relax and release tension.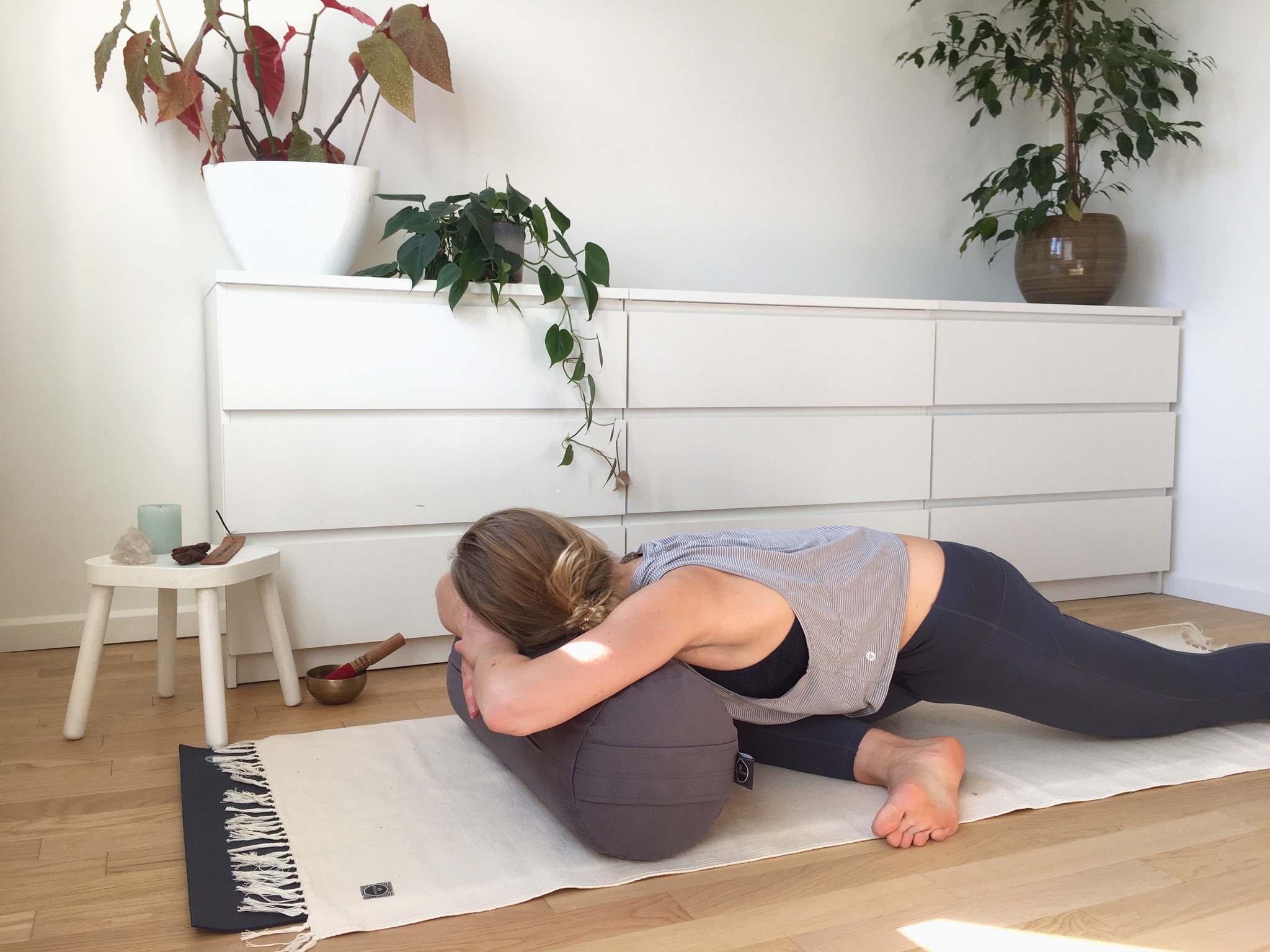 Bolsters are available in round and flat shapes and with different fillings. Bolsters filled with buckwheat (as seen in the picture) are the most firm and keep their shape when you lay down on them. Kapok bolsters are slightly softer but still quite firm. The Manduka bolsters are filled with foam and are the most soft. All bolsters are suitable for yoga, which one is right  for you depends on your personal preference.

A less well-known but very versatile yoga prop is a yoga wheel. This can be used to work on your balance or train your core, but is also a great prop for more restorative styles of yoga. It's wonderful for opening up and massaging your back and shoulders. Because a wheel supports your weight in a backbend you can relax more and stay in the pose for longer. Because you can roll the wheel you can easily adjust a pose and bring some movement into your practice.
Accessoiries
Which other items do you like to have near you when you practice? Maybe you like to use a singing bowl or mala. A mala is useful for japa meditation. During this type of meditaton you pass the mala through your fingers and repeat a mantra with each bead. If you are meditating alone without any audio or visual guidance, a mala can be a useful tool to keep your attention focussed.
Also think about how you like to take savasana. If it is colder in your yoga space it is probably nice to keep a blanket handy. Ay eye pillow filled with lavender is also a real treat during savasana or yoga nidra!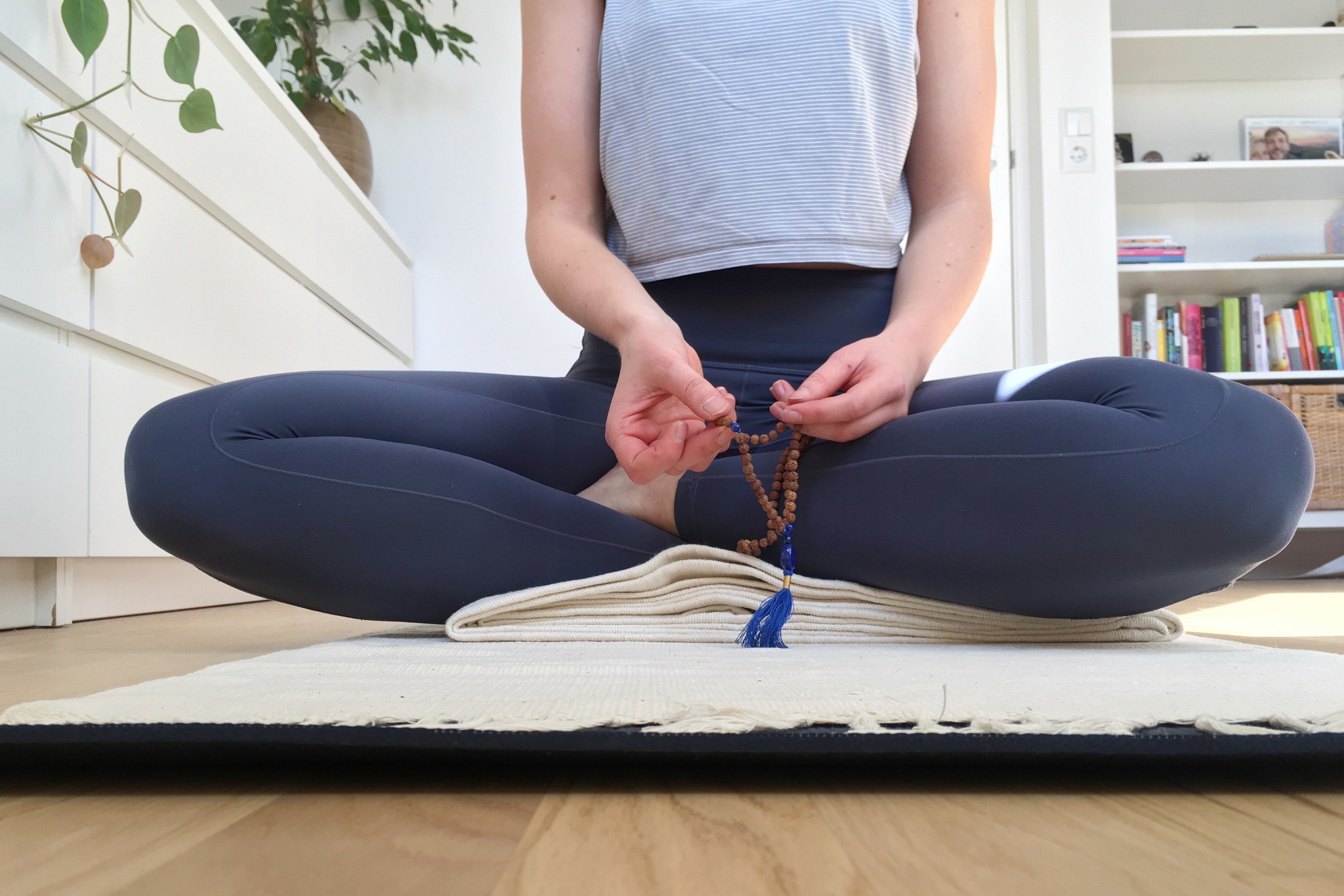 Make it yours!
Last but not least, make your yoga space a place where you feel comfortable and like to spend time! Maybe you like to light a candle or burn some incense. We've also included some palo santo and a chrystal on a little personal altar