Manduka GRP Adapt Yoga Mat 180cm 66cm 5mm - Black
Manduka GRP Adapt Yoga Mat 180cm 66cm 5mm - Black
Your practice and conditions are always changing. The Manduka GRP Adapt yoga mat adapts to varying conditions easily, allowing you to focus on your practice! The GRP Adapt is versatile enough to go from slower flows to your sweatiest sessions, and light enough to travel from place to place.
No matter how much you sweat, The Manduka GRP Adapt delivers supreme traction with no slip. The mat wicks away moisture and provides supreme dry grip, even when things get sweaty! You'll always we ensured of perfect grip, without the hassle of a towel.
This mat is made from an innovative foam rubber that offers great support for your joints and a unique, springy return. Rubber also prevents this mat from slipping on the floor as you move. With 66cm, this yoga mat is bit wider than standard sizes yoga mats, providing you lots of room to move.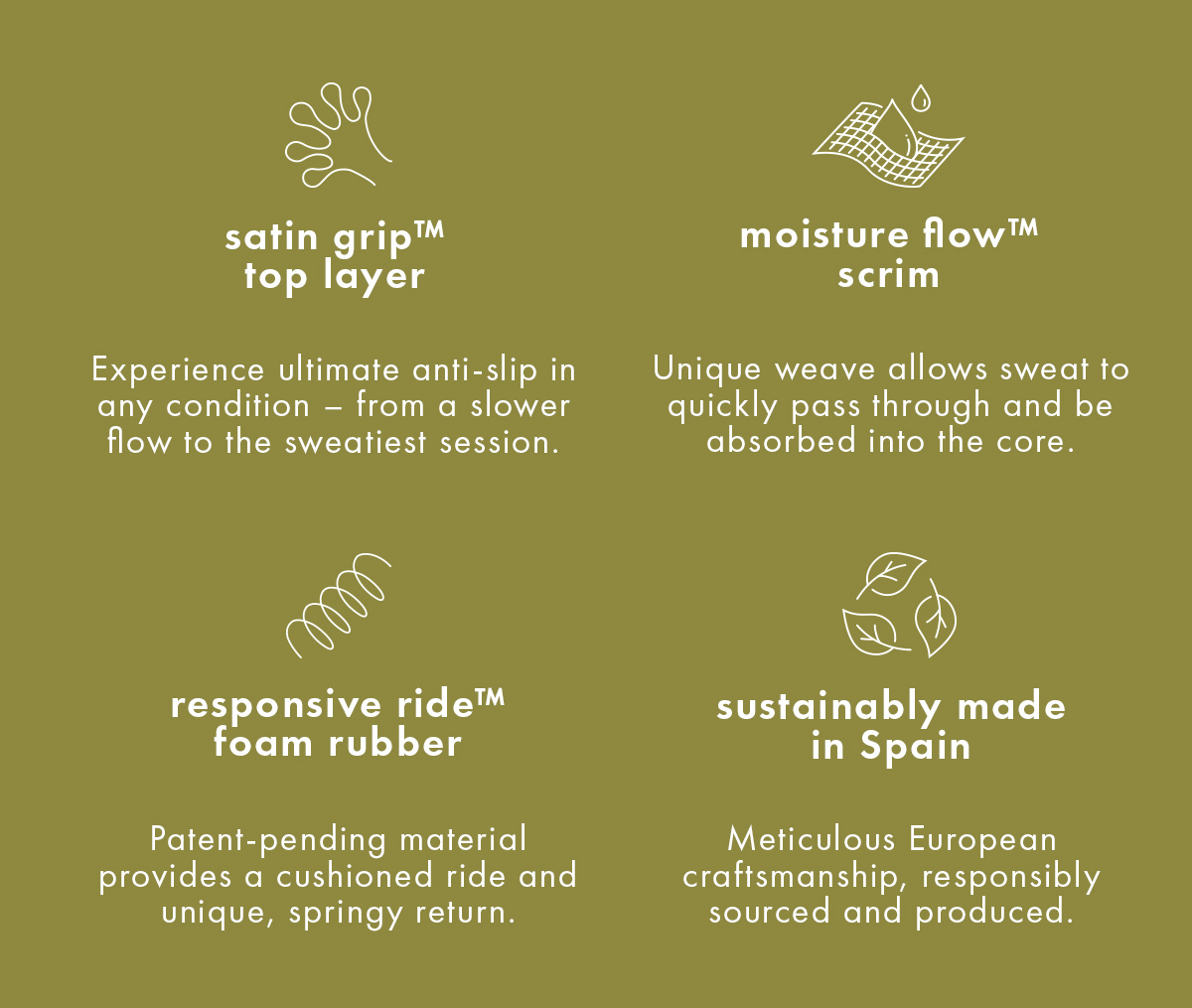 Size: 180 cm x 66 cm x 5 mm
Weight: 2.7kg
Features
Perfect for a sweaty practice like Hot, Bikram, or Ashtanga yoga
Open cell proprietary PU material offers unparalleled dry grip and ultra-quick moisture absorption.
Unique weave allows moisture to quickly pass through and be absorbed into the interior foam layer
Softer cushioning helps to protect joints
Rubber grips to the floor and prevents mat slippage.
Use and care
For regular maintenance, use Manduka mat cleansers. Spray the cleaner on your mat and rub with a damp cloth. Rinse the cloth thoroughly and wipe down mat with fresh water. With a dry cloth, soak up any excess water and hang to dry before rolling and storing the mat.
After every practice, make sure the mat is dry before you roll it up to store it.
Sustainability
The Adapt's core and bottom layer are made with sustainably harvested natural tree rubber. Manufactured in a sustainable factory in Spain to ensure no toxic emissions are released into the atmosphere, the Adapt is good for the planet and your practice.
0

stars based on

0

reviews
0

stars based on

0

reviews