Zen By Sen Men's Leggings - Marble
Zen By Sen Men's Leggings - Marble
Yoga pants for tough men: These Marble Man pants have a trendy look because of the black and white marble print. The pants are close-fitting, have extra space at the crotch and smooth elastic waistband. This makes these pants very comfortable and ensures they stay in place regardless of the movements you make. Wear the pants on their own or with a loose fitting short over them during yoga, or even while running, or at Crossfit. The fabric moves with you in four directions, retains its beautiful color color, even after frequent washing, and dries quickly.
All Zen by Sen leggings are designed in the Netherlands, produced sustainably within Europe, and made with recycled fishing nets. Because of this we keep the seas clean with each other while you can still wear trendy leggings with perfect fit. From fishing net to fashion. With love for our planet.
Features
Light and fast-drying material
Gusset for extra space
Moves with you in all directions
Material
78% recycled polyamide, 22% elastane. Produced in Germany and Poland
This light and fast-drying fabric keeps you cool and dry during your yoga practice. In addition, the material is very durable and retains its shape and color for a long time.
The material is also great to wear in the water, for example during a SUP yoga class or a surfing session. The fabric dries quickly and is resistant against suncream and seawater.
Washing instructions
In the washing machine at 30º, do not tumble dry.
Sustainability
What makes the Zen by Sen leggings so sustainable? We'll break it down for you!
First, the leggings are made from recycled fishing nets left in the sea by fishermen. Every year many marine animals get entangled unnecessarily, and we do not like that! By purchasing a Zen by Sen legging you contribute to making the oceans a safer, cleaner place!
Secondly, Zen by Sen leggings and fabrics are produced close to home in Germany and Poland. That saves a lot of transport kilometers and the employees get good working conditions and fair wages. This feels a lot better than producing products in a distant country, where the working conditions and wages are not always up to our standards.
Third, the fabrics are not dyed, but printed. This saves a lot of dyes and also liters of water compared to other color processes, where a lot of water has to be used to paint a fabric.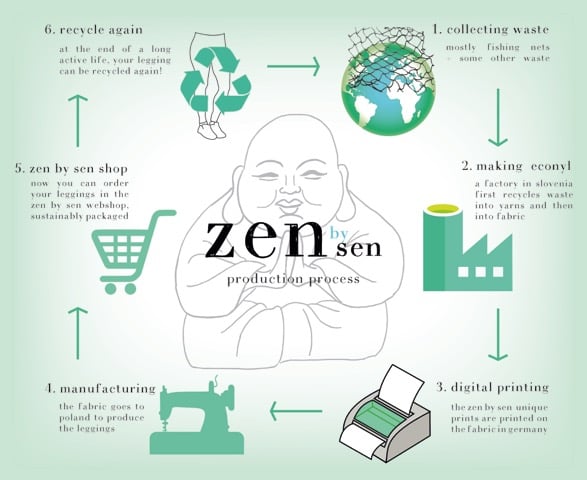 0

stars based on

0

reviews
0

stars based on

0

reviews